Easy chicken basquaise
This easy-to-make twist on a classic chicken basquaise is full of flavour. Add your own choice of vegetables if you can't eat the ones suggested.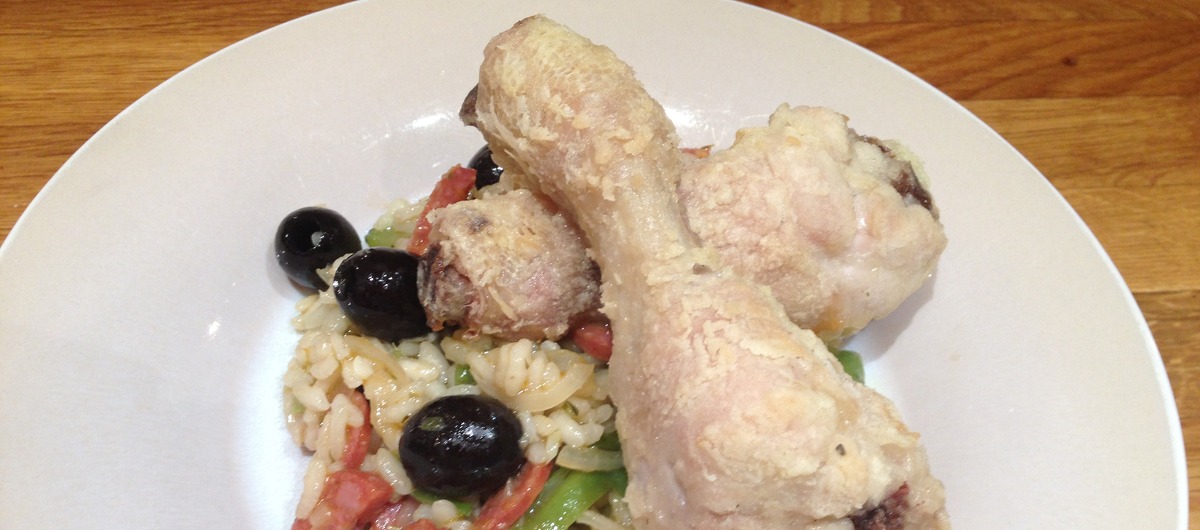 Ingredients
Method
Preheat the oven to 190c
Heat half the oil over a medium heat in a heavy-based pan or casserole dish. Dice the onion and crush the garlic and add to the pan. Cook until the onion in golden
Add the chorizo and vegetables and cook for a couple of minutes
Add the rice and stir so it is coated in the oil. Add the stock, the thyme, salt and pepper and stir thoroughly. Cover and cook over a low heat for 45 minutes, stirring occasionally and adding a bit of water if it becomes dry
Meanwhile dry the chicken using kitchen roll. Put the flour in a polythene bag along with some salt and black pepper. Add the chicken, seal the bag and shake until the chicken is all coated
Heat a frying pan over a medium heat and add the rest of the olive oil to the pan. Add the chicken and cook, turning regularly, so that the flour on the outside starts to turn crispy. Transfer the chicken to an oven proof dish and place in the oven for 20-30 minutes. When it's cooked the juices should run clear if a knife is inserted into the centre
After the rice has been cooking for 45 minutes add the ham, black olives and chopped parsley. Stir and cook for another 5 minutes
When both the chicken and rice are cooked serve immediately
Reviews, Tips and Questions
Write a review
You need to be logged in to write a review.
Reviews
There are no reviews for this recipe yet.