My Humira diary - Simon Booth
In November 2015 Simon Booth, who has Crohn's disease, started taking the biologic medication Humira (adalimumab). For the first three months he kept a diary for IBDrelief.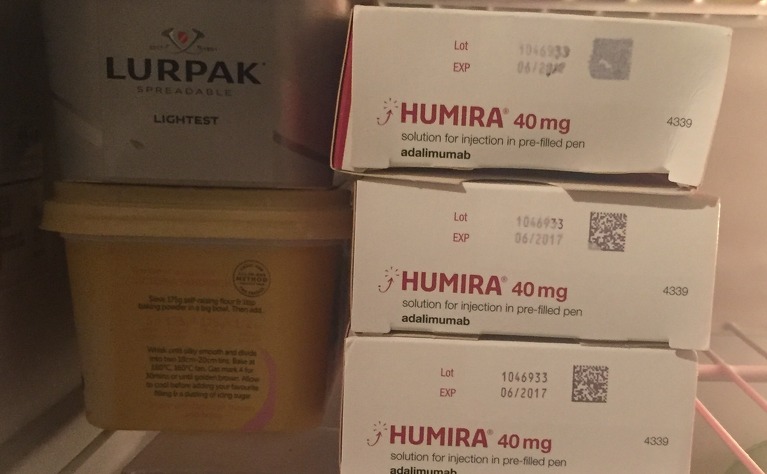 MONDAY NOVEMBER 9, 2015 - 09:00
Humira Pre-Screening
Today is the day for my Humira pre-screening.I met with Sally, one of my IBD nurses who will be taking me through my Humira treatment. They assign each patient to their own IBD nurse when going onto biologic treatment, which to me is a great idea as Sally and I got on really well straight away and she's already starting to build a picture of how Crohn's disease affects me personally.
Sally explained everything that was going to happen today first and why I was having my blood tests and chest X-rays. I had eight vials of blood taken in total testing me for all sorts from TB to hepatitis and HIV. Everyone is tested for the same infections so they know the body isn't fighting or holding any dormant infections.
I'm used to having blood taken, I've been having monthly blood tests for 12 months now for my Azathioprine and six months before that for my anaemia - with this being eight vials though I felt a bit woozy afterwards (note to self - eat more than a crumpet first thing in the morning and maybe skip squeezing in the 45 minute body combat class). Whilst I was sat there though it gave Sally the perfect opportunity to explain what happens next....
Once the blood tests and X-rays are back and they are sure I'm not fighting or holding any infections I'll go back and meet Sally within a week for my first dose which they call the loading dose as I'll have four injections that day. I need to put about an hour aside for the appointment and I'll get one injection each side of my abdomen and one in each thigh (I'm already thinking about wearing shorts (in November) so I don't have to change into the horrendous hospital gown). Two weeks later I'll be back for my second dose which is then two injections and then two weeks more I start my regular one injection once a fortnight.
The injections are given by pre-filled syringe pens and Sally explained that as soon as I start to feel confident in having a go and injecting myself I can do. It could start on my first loading dose (which I'm leaning towards at the moment just so I can get stuck in - literally) all the way through to going to a drop in clinic every fortnight and being with the nurses for peace of mind.
It's easy for me to say now, I'll start self injecting straight away, maybe i'll feel different when loading dose day arrives but I want to keep that plan in my mind as option 1. Crohn's interrupts my day in so many different ways and I'm striving to find some normality in life so having to go to the hospital once a fortnight would interrupt life and I don't want that to be a normality...
So, blood tests done, next steps explained and I was then off for a routine chest X-ray to allow them visually check my lungs for signs of TB. I should have the results back in a week from Sally. She did warn me though that as I am on steroids at the moment for my flare, that could bring back a positive result for TB even if I don't have it, so I may have to go back and have a different blood test to double check!
SATURDAY NOVEMBER 14, 2015 - 07:28
Will I be a superhero?!
I woke up at 6am this morning and I'm not sure if it was the steroids waking me up or the sore ache and grumbling from my lower abdomen.As I was lying there though I thought to myself once I start my Humira, I'll still be on my steroids tapering down and Dr S is keeping me on my Azathioprine too...surely I'm going to feel amazing! In fact, amazing doesn't cut it - surely I'm going to feel like Superman!
All these strong drugs in one go, Crohn's hasn't got a chance, right?!
MONDAY NOVEMBER 16, 2015 - 09:38
The results are in!
I got my call from Sally, my IBD nurse, today with my results from the blood tests and X-ray and I am all clear! So we discussed when I could go in for my loading dose! She could book me in as early as the next day (she did say normally I'd bring you in today but we're fully booked)!
I'm away with work Tuesday to Thursday though this week so said I was free Friday! Being really honest, Sally sounded a little surprised I was going to wait until Friday and it made me think - should I have rearranged my diary and work commitments to make a sooner appointment?! Is she questioning whether I'm ill enough to be on this drug if I can wait until Friday?! (Not saying she did think that but I thought she might have done).
But then I took myself back to me and my needs and how I deal with this on a day-by-day basis and I've promised myself this year that I would manage my Crohn's effectively enough. Enough so it didn't impact my life and that I make the decisions and not let it control me. So, I stopped feeling guilty about waiting until Friday. If I was mid-flare without the steroids maybe I would have felt differently....
FRIDAY NOVEMBER 20, 2015 - 08:57
Today's the day!
Just about to leave for my first lot of Humira.
I've been awake since 4.30am a mixture of steroid insomnia, which I always seem to get, and a mix of nerves and anxiety - not knowing puts me in this place so I'm looking forward to being there and getting started!
FRIDAY NOVEMBER 20, 2015 - 12:36
I'm officially a pin cushion!
It's all done!! 160 mg (4x40mg) doses, two of which Sally administered in my stomach, the other two I did myself in my thighs!! So pleased that I did two myself as I wanted to get stuck in as soon as possible!
The first one stung like hell but for literally three seconds as the needle pierced my skin. The next three I was more prepared and relaxed as I knew what was coming. I'm prepared to feel exhausted tomorrow, that's apparently a given seeing as it's such a high dose, so going to make sure I've got nothing planned and plenty of safe, healthy, tasty food in to keep me going (I'm supposed to be going with friends on a long overdue night out so fingers crossed I still make it). My biggest question for Sally was - what is remission going to be like?! In two years since my diagnosis I've only had around four months of being symptom free, and that wasn't all in one go. And, when I say symptom free, I mean nothing at all, no diarrhoea, no pain, no fatigue, no insomnia, no aching joints, no loss of appetite. Even now as I'm tapering on the Pred (steroids) the toilet visits are calmer and I'm more solid (too much info?) but I still have abdominal and joint pain, fatigue, loss of appetite....so I'm really intrigued to what long term remission is going to feel like...if I get it at all.
I'm back to see Sally in two weeks for two more injections and she's told me it might be normal to feel symptoms again a few days before, that's my bodies way of saying it needs more of this expensive, wonder drug!
SATURDAY NOVEMBER 21, 2015 - 09:34
Humira hangover day?!
I'm sat at my dining table having just eaten boiled eggs with soldiers, drinking a lovely, hot strong brew and Adele's new album playing in the background - and I feel good! I was expecting to feel really rubbish (it's only 9.35am) but I managed a full eight hours' sleep last night. I have a slight cotton wool headache feeling but nothing plenty of water won't solve.
Feeling nostalgic, optimistic, hopeful, special, loved, like I want to take on the world and I remind myself - take it one day at a time Simon and just live each day as much as you emotionally and physically can...change the world one day at a time by being you.Let the Humira kick in!
Oh and I read a great post on the CCUK closed Facebook group today about a young man who has had UC since 12 and is now 33 and competing in the highest standard of Kickboxing ever possible.He writes: "I did NOT let this disease win. I trained through sickness and pain because I refused to be defined by UC". Such amazing, powerful words that made my skin goosebump and the hair on my arms stand on their ends - why?! Because I make a choice to think like this too. Crohn's is part of my life now, forever. But it will not define me, it will have its moments, as it has done in the past, it will not be how I am remembered though. It's only allowed to be if it's people speaking in admiration for how I didn't let it take over my life and that I still go out there and live the life I want too. I make the constant daily decision to be positive as I know it's a much better place to be.
Who knew boiled eggs and Adele would get me so profound on a Saturday morning?!
TUESDAY NOVEMBER 24, 2015 - 07:50
Fishing!
Stool samples, so annoying!! I didn't have a margarine tub spare, which is apparently the easiest way! It's going in the post - can't decide if that's weird or not!
Been really tired the last few days - that could have been the drunk Saturday night affecting me - definitely felt 'Crohny' yesterday though, pain-wise where I had my resection...hope this isn't a sign of a stricture.... :-(
WEDNESDAY NOVEMBER 25, 2015 - 07:44
Emotionally Driven
One of the biggest contributing factors to my disease is my emotions - yes, food definitely plays a part, but my emotions and how my body feels I think plays a bigger part.
Even though I'm not visiting the toilet as much and there's no loose movements I am definitely having some pain on my right side and have that general queasiness, upset stomach, feel like I want to go to the toilet all the time. I call this the washing machine feeling.When you watch the water swirl and gurgle around the drum up against the window...that's what I feel (I think - as I've never been inside the washing machine).
Will Humira impact that? Can it help with the emotional, body impact Crohn's has and the impact my body and emotions has on my Crohn's?!
I also probably ate far too much fruit yesterday, well I know I did, which is then too much fibre - which if I'm having pain is a big NO so I need to cut back on that today!
Plus side - the steroids have removed all my bloatedness, I forget what it's like to have flat stomach and I'm starting to sleep again so hoping the last four weeks of Pred will be good ones!
SUNDAY NOVEMBER 29, 2015 - 06:19
Where did the time go?!
I can't believe how quick almost two weeks has come around. I'll be going back in to see Sally for my next dose of Humira on Thursday morning (it's a day early as I'm flying out of the country Thursday afternoon). I've kept the dummy pen in the kitchen on the side so that it reminded me to keep practising the steps of how to self administer.
Sally's already said she's going to sit back and just let me get on with these two doses so that I can be "signed off" for doing them at home.So, whilst the kettle boils, or I'm waiting for the washer to finish, I practice. I've forgotten what it feels like as I inject though so that I can't prepare for it. I know it's not as bad as I thought it was going to be. I haven't got the full "kit" yet of actual pens, sharps bin, alcohol wipes etc so when all that arrives and the first time I gather all of that and go sit somewhere it will feel very real. I'm debating whether to have someone in the house with me the first time (I live alone), just so someone is here. I might not have them in the room with me, but it would be comforting to know they're in the house.
Symptom wise I'm slowly on the downward spiral, sadly. Whenever I get to less than 20mg of steroids I always seem to become more symptomatic. The general upset, washing machine-type feeling in my stomach, loss of appetite, noisy pipes (intestines) and yesterday sharp stabbing pains (great!) are all there. The stabbing pains are concerning me slightly as I've not had them since my surgery and in my head they signify a potential blockage :-(
I know I need to pull back a little bit now, make a choice and lots of conscious decisions throughout the day like don't go to the gym - I'm tired and need to rest (and I'm going Christmas shopping, that's a work out on its own) - not to eat much fruit or fibrous foods today. On the other spectrum no high fat, sugary foods either - and be careful with the booze. My friend Tom is coming over tonight for a movie and I was planning on having some wine but I'll see how I get on. I know my diet hasn't been great this week, I've only been home Tuesday and away in hotels the rest of the time so I was expecting to have gained a bit of weight. But, I was shocked to see I'd stayed the same...maybe another sign a flare is brewing inside!
I keep reminding myself I've only had one dose and some patients report up to three months before they start seeing results so I've got to take my time with this and see what difference it makes with no steroids.
Do I feel like a superhero though?! Sometimes! I walked to the gym yesterday morning at 8am all layered up from the cold (I love being layered up in the winter) with some great music playing in my ears and a massive grin on my face - I felt truly amazing and wanted to dance down the street (it was too light for that, but I have done it before)! If I could feel like that every other day I'd take that, even once a week. It felt like the cheapest, cleanest, best drug in the world....I think it was called happiness!
WEDNESDAY DECEMBER 2, 2015 - 06:22
Here we are in December!!
I'm half ready for Xmas, actually probably 3⁄4 ready which is a good thing seeing as I'm going away to Fiji tomorrow on business! We've planned for my Humira first thing tomorrow morning before I drive to the airport!
How have I been feeling...? Not 100% which has been a shame.
Sunday night I indulged a little too much maybe and had wine and chocolates and a late night and I'd been anxious a lot on Sunday so I think in a 24 hour window I'd visited the toilet over six times (three of those between the hours of 2am and 7am).
I didn't do an awful lot Monday and then felt guilty for it (because of the wine and oh I had a Chinese takeaway too, the first in months! I only had 1⁄2 a portion of special chow mein). So, because I was feeling guilty I went to my yoga class but thought I should at least try some cardio to shift some extra calories, 30mins of X-trainer sorted that! My regular yoga teacher was off so we had a fitness yoga class instead which was great - but my goodness it was a real workout and should have really been a Bikram class we were that hot and sweaty!
On Tuesday I woke up fine, got ready and headed over to my mum's (Christmas baking day together) but by lunchtime I had to sit down for a few hours and almost nodded off! I was exhausted to the point where my dad came in and he said: "You look terrible, are you not sleeping again?". Thanks pops! But he was right. My sleep has been quite disturbed recently and I felt shocking.
I then connected more dots, achey knees and shoulders (could have been fitness yoga) but my other tell-tale sign is my gums become inflamed and I get sores on them and on my tongue. Only a few, but it's always as I'm heading into a flare. Like an early warning system telling me to slow down, recuperate, before you get yourself back up to full speed!
I remind myself this is normal though - Sally said the few days before your next injection you can start to feel symptoms so hoping it's just that! Not sure I can cope with a flare in Fiji on my own...Simon of course you can. You don't let this beat you!
I took my dummy Humira pen with me yesterday to show the family what I do. Dad loves stuff like this so I was teaching him (and reminding myself) what to do. No doubt he'll want a go at some point!
As well as resting and recuperating today I need to pack for Fiji, go get my prescription and currency, clean the house and do some work this afternoon - I'm technically on annual leave but need to sign in and sort a few last minute things out for my trip! But as soon as all that is done I have a date with my sofa and a movie! I know that I'm not going to be doing much on the two 11 hour flights to Fiji but it can be really tiring on my body! I'll tell you more as it happens!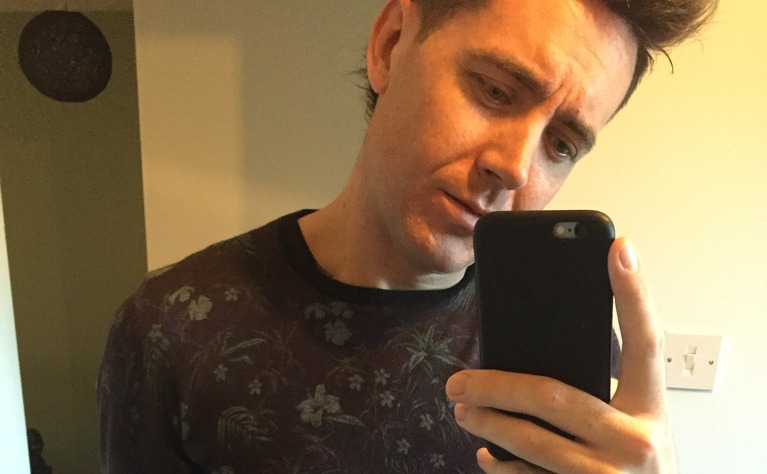 THURSDAY DECEMBER 3, 2015 - 19:00
Round 2 of injections!
I'd said to Sally beforehand that I wanted to do these two so she could then "sign me off" and I could start doing them from home on my own. I'd been thinking already where would I inject, thigh or stomach? Because I'd injected in my thighs the two weeks before I decided I should have a go in the stomach and decided on one of each.
I had an 8am appointment before heading down to Heathrow (I'm going away with work for 10 days) and arrived to see Emma (Sally is off today) and we chat about my symptoms whilst she takes the pens out of the fridge and let's them warm up! This is a top tip apparently as they can sting more if they are injected straight away when they are cold!
Whilst they're coming up to room temperature Emma adds some notes to my file and I fill her in that I seemed to have a good week but slowly started to trail off again the last few days, which is expected. More frequent bowel movements, the stabbing pain and general unsettledness.
And then it's time, I go behind the screen and Emma comes with me and gives me another quick brief on what to do. I explain that I want to try one of each and start with my thigh and...it's a success!
Technique was fine, injection went in and it wasn't as painful as I remember. Simon-1 Crohn's-0! Now time for the stomach which I haven't done before and it doesn't go to plan. As I pushed the red button down I wasn't applying enough pressure (my stomach is obviously less muscly and not as tough as my leg...I'm working on it though :-)) and as the needle and sleeve slide down they rebound off my skin and I see the Humira dribble down my side. I was gutted, totally annoyed at myself and immediately wondered will I now be ok for the next 2 weeks with only 1 injection?! Simon 1 Crohn's 1
Emma explains what happened (not putting enough pressure on) and that they can't do another injection as she doesn't know if any was administered at all so I'd have to leave it with one. She recommends I keep using my thigh for the time being seeing as that's working for me.
I'm annoyed with myself for a few hours but get over it and put it down to learning and experience, which it is!! By the time I've boarded my plane I've forgotten about it.
I'm still "signed off" though and Emma is organising my injection pens to be delivered to home the day after I land as I'll be due my first injection at home two days later! So I'm waiting on the sharps bin, three boxes of Humira (one month's supply in a box and three months supply delivered) and the cool bag for transporting incase I'm away whilst I need to top myself up.
Already I'm trying to think of a suitable place for a sharps bin in the house...it doesn't really go with my decor!
SATURDAY DECEMBER 12, 2015 - 08:07
Bula from Fiji!
Today is Saturday night and I've now finished my week of night shifts training and developing call centre staff. It's been a hectic week, lots of call centre activity and trying to adapt to working nights, not getting much sleep in the day (due to noisy hotel maids, air conditioning units and the heat - but they're all necessary) and having to keep on top of the day job tasks back in the UK.
The travelling was fine, I managed to sleep (a whole eight hours on the second flight (it's a 30 hour trip of three flights in total)) and was really careful with what I ate and when I ate.
This is my second trip to Fiji this year and I had the mother of all flares when I came home in the summer. I put it down to the exhaustion but also the poor diet I ended up having. I ate everything put in front of me on the flights last time, even when I wasn't hungry, hadn't slept much and after we landed (I was with my boss at the time) I was having to pull over at services and spend 20 minutes' quality time with the loo! I then gradually got worse and by the next day was on the toilet every hour being ill. I still put it down to changes in time zones and being tired so carried on eating but just kept getting worse. To top it all off I was then going on holiday the following week and was already worried whether I'd be well enough.
Desperate times call for desperate measures so I stopped eating anything apart from white bread, called my IBD nurses and they prescribed me a course of steroids for 10 weeks.
So, because of the flare last time, I've promised myself I have to take more care of myself this time - especially seeing as I've had two flares already this year and that I would be tapering off my second course of steroids that I started in October.
My aims were to sleep more, especially if I was tired. So every day I made myself:
go to bed and snooze for 1-2 hours, as I was only managing 5-6 hours after work
only eat when I was hungry and try to eat as clean as possible. By clean I mean fresh, not fried, no cream or foods that I know might upset me
make sure I find time for myself every day whether that was. reading, sunbathing, exercise or just watching tv!
And I've done ok...I had an upset stomach the Monday, two days after arriving but put that down to getting used to the time zones, catching up with the travelling and I went a bit crazy with fruit the first two days at breakfast!
On the flights I only ate when I was hungry and totally skipped one meal and slept instead which made me feel better, not only health wise but in myself too and plan to do this on my night flight home. I can eat in the airport at dinner time, sleep overnight and eat breakfast before landing. Have some lunch in the airport, my evening meal on the flight, more sleep and then breakfast before I land in the UK.
I have had a few indulgences whist being away - a Fanta now and again (I stay off fizzy drinks as a general rule as they make me bloated and don't help with the overall feeling of greatness), some ice cream (it's so hot I need ice cream every now and again) and chocolate too purely for the energy! I am going to confess a "bananalicious" dessert has just arrived at my table consisting of banana, ice cream and a massive piece of chocolate cake! Oops!
I've been to the gym a few times, meditated every day (not sure I've told you about meditating before? It really helps me with my emotions and staying cool, calm and collected) and found some me time every day! And I have felt amazing some days, like the superhero amazing I was hoping for! I'm putting it down to the sun, the Humira and the fact that I get to do some really fortunate things in life alongside the unfortunate disease I live with! The last two days some bloatedness has returned and my general "washing machine" feeling inside but I've been expecting it. I'm less than a week away from my next injection now and the lack of sleep has been catching up with me!
This is my last night. I arrived at my new hotel at 8am this morning, slept 9am-6pm (I must have needed it) and fly out 9pm Sunday night. I just need to get through the next 48 hours and I'll be back on UK soil and then have a few days off before being back at work!
Here's hoping the good choices I make pay off, I have so much to do when I get home (Xmas shopping, cards to write, presents to wrap, parties to host and five days of work) and would really like to stay off the steroids to get rid of my hamster cheeks!! Here's hoping my next injection on Thursday is a successful one!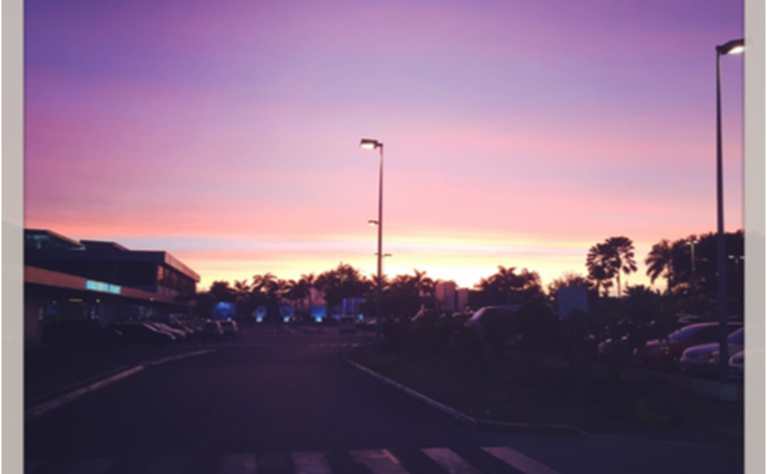 SUNDAY DECEMBER 13, 2015 - 06:43
Time for home!
After pulling my last night shift at the call centre I head straight over to the western side of the island for two days so I'm up for over 24 hours! I collapse into bed at 9am Saturday morning, sleep until 6pm, get up, lounge about, eat some food and eventually go back to sleep around midnight only to wake up at 3am and not got back to sleep.
I read, order Christmas presents online, have an awful realisation that I think a friend's present that has been delivered might have been left 'securely' in the recycling bin and the friend who it was for has been to put my bin out for collection the day before! The irony!
At a more acceptable time I go to the gym, eat breakfast, sunbathe, FaceTime my parents, do some work, shower, pack and at 5pm check out and am starting to feel shattered! I want to stay up now so I can sleep on the night flight to LA so order a coffee...1.5 hours later and I'm rushing through duty free to find a toilet!Thanks Crohn's! Just what I needed before two 11 eleven hour flights back to the UK!
It makes me start to wonder again...what is remission for me? Should Humira, if it's working, let this be happening?! Or is it the extreme case of being away and working so much. I'm annoyed at myself as I've jinxed myself. Mum was only asking a few hours ago how I had been and my reply was really good! I don't think I'll flare when I get home this time! Fingers crossed I don't! !
MONDAY DECEMBER 14, 2015 - 09:48
30 minutes from landing!
Well, that has been an epic 27 hour journey from Fiji. I've thankfully slept a fair bit, about six hours on the first flight and then between 4-5 hours on the second, on and off!
My stomach feels like it's going to explode though! And it's for different reasons! I've not "been to the toilet" since having multiple visits in Fiji airport and I had taken two Imodium to settle me down but my bowel always seems to go into hibernation on long haul flights anyway. I'm also full of wind too, think that must be a travelling thing too, it's causing me some discomfort and I'm ready to be off the plane, walk around a bit and see if I can move anything before the four hour drive home.
I've remained fairly sensible with food, I only had one meal, which was breakfast, on the first flight as we came into LA, ate a turkey sandwich, litre of water, crisps and a latte in LA airport for lunch and then it was time for the next flight (I did sneak in some duty free Xmas shopping and a cheeky 20 minute massage which has helped with the sleeping). I had the three course evening meal, went straight to sleep and then woke up ready for breakfast and had the fruit, yogurt and croissant. I skipped on the granola and scrambled eggs knowing how my stomach felt and I didn't want to add anymore to it or put me in a place that was going to make me feel worse (granola, even though I love it, is a big no no for me and I have to be careful with reheated anything)!
The flare I had coming home from Fiji last time was terrible so I'm determined to do all I can to not end up there! My first big challenge will be not buying the skinny latte I know I want when I arrive at the airport before I start the four hour drive home...it's so tempting!!
Humira arrives tomorrow to my house!! I'll have injection pens in my fridge! Random!
WEDNESDAY DECEMBER 16, 2015 - 12:53
Humira Hangover?!
Two days back in the UK and I've been really fortunate not to suffer with any jet lag! I managed to stay up on the Monday to a decent time, went to bed and then slept for a solid 11 hours! Crohn's wise I was feeling ok too. Monday and the flights home I was really sensible with the food choices and went to bed feeling good.
I woke up feeling good too, had my breakfast of eggs and bacon and all of a sudden got that urge that means you have to go, like NOW!! Thank goodness I was at home.
Cue lots of loose, oily, lumpy passings. But that was it, I didn't go for the rest of the day. The same thing happens Wednesday morning after boiled eggs...so perhaps eggs aren't good for me?! I don't normally have any trouble though.
But as the week went on I stared to notice other signs, aches were back in my joints, I was feeling really tired (this could have been Fiji time I suppose) and the general washing machine stomach! I also had this really foggy headache, just there in the background feelinglike a dark cloud.
So, I'm naming this my Humira hangover! This is probably what it will be like when I am due my next dose! It's not as bad as being in a flare at all but it'll be useful to know that towards the end of my current dose I need to be careful with myself!
Talking of my next dose, roll on Friday!
FRIDAY DECEMBER 18, 2015 - 14:30
Injection Day!
Think the title says it all! But pleased to say I managed to inject successfully today, in my thigh with no pain or discomfort! I think the biggest tip is leaving the pen out for a while to warm up slightly. Emma keeps reminding me it stings when it's cold so I'll be bearingthat in mind when mine arrive on Monday!
That's me on a regular dose now, one pen every fortnight. I've got an appointment coming through for February time and I have to send in a stool sample two weeks before so they can measure my calprotectin levels and see if it's doing the trick. As I'm getting symptomatic by the end of the two weeks there is an option to inject weekly but that will all depend on the levels.
Watch this space and let's see what happens!
SUNDAY DECEMBER 20, 2015 - 10:21
Too much!
Today is Sunday and I am feeling the effects of overdoing it yesterday! I went back to my body pump class yesterday morning, the first one in I think nearly three weeks and it was tough to the point I was almost sick! But I felt good after it!
I had family over in the afternoon for a Christmas gathering with food, present swapping and Strictly Come Dancing final! Though, that meant I actually didn't rest until 8pm that night so was on the go for a full 12 hours non stop! It was great being host and spending some quality family time, but I was in pain by the end of the night - lower back, across my abdomen and felt quite swollen!
And it's showing today too in my toilet visits and energy levels - I could sleep standing up! Gentle reminder to rest and take things easy as Christmas is going to be a challenge - the food, wine and social elements are all temptations I'll need to face and I have zero stamina to say no when I'm tired! But I know too much chocolate, pastry, high fat foods, wine and beer will play havoc with me...
Unless the Humira changes things for me?!
Some of this is aches and pains from the body pump class and the foggy cloudy headache might be the Humira effect so hoping it eases throughout the day - I'm cooking Sunday lunch today but it will definitely be more relaxed than yesterday!
TUESDAY DECEMBER 22, 2015 - 18:08
The steroids have left my system!
Friday saw my first day without taking one of the teeny tiny little steroids for 10 whole weeks! 10 weeks of steroids and nine weeks of no pain...and it suddenly dawned on me today why my pain was back, the steroids had finally left my system.
Now I've been no saint, I pushed myself too much on Saturday, Sunday I had friends round for dinner, two bottles of wine (to myself) and lots of food resulted in being wide awake at 1am (I'd gone to bed at 10.30, drunk) wondering why I was awake and realised my bowel had woken me up! Do you ever have that you wake for no reason but it's like an early warning system, silently going off that you will need the toilet in T-minus three minutes?! And on 'lift off' there I was sat on the loo for a good 20 mins solid - but I wasn't solid in the slightest!
Monday I was generally achey all day as if I had been punched in the stomach and today in the office I've had on and off sharp pains and a strong dull constant ache....why?! I've eaten like crap again today and my steroids are over.....so why isn't the Humira kicking in?!
I remember mentioning to Sally the real test whether this was working was when I came off the steroids and now I am it's worrying me it doesn't work! I need to give it time though, it can take three months to kick in and I've been eating badly so I only have myself to blame too!
I know the next two weeks will be hard with food and drink choices but I also don't want to be ill over Xmas...this disease sucks doesn't it?!I'd almost forgotten I had suffered with pain in the past after being on steroids for 10 weeks...but it's back to remind me with a vengeance!
MONDAY DECEMBER 28, 2015 - 16:25
Christmas has been and gone for another year!
After my last entry on Tuesday 22nd, Wednesday was another similar day, aches and pains and really bad lower back ache which was uncomfortable to say the least.
I tried my best not to overindulge over Christmas and I did indulge but definitely had moments where I stopped myself also. I didn't drink as much on Christmas Day but I still had enough though to make me ill Boxing Day. On that note I didn't drink at all on Boxing Day and when I went to the pub with friends my decision wasn't met warmly, with one friend actually telling me I was a bore for not drinking. Even though I tried to explain why I wasn't drinking she wasn't buying it and got really dismissive...think she is off my Christmas card list next year!
What I've started to notice is I can't manage big meals anymore. My mum cooked a gorgeous Sunday roast yesterday (yes, technically the second roast of the week after Christmas day) and there was starter, main and dessert and within an hour I was jumping in my chair as food was trying to push through my bowel and the only way to relieve it was to lay as horizontal as possible at the dinner table, legs stretched out far. My friend came for dinner and asked what I was doing, she understood once I explained what was going on.
I've also been to the toilet three times today, which I know isn't as bad as it can be, but its telling me the indulgent food over the last few days, the alcohol and the portion sizes are having an impact and that the Humira hasn't kicked in yet.
I'm due my next dose on January 1, 2016, which is Friday and today is Monday. Where as before, on previous doses, I could tell it was almost time for the next dose as I was getting symptomatic a few days before, I've been having symptoms constantly since my last dose...so the steroids were providing some relief and now they've left my system, my body is dealing with the Crohn's symptoms without much aid from the Humira :-(
I'll have to see how the next few weeks go. I have my three month appointment with my consultant towards the end of February. There he'll review my calprotectin levels (I have to provide a sample two weeks before) and if they aren't coming down as much as he would like then there is an option to go to weekly injections. As that will be the three month mark of the medication we'll see if it's having the desired impact.
A question I keep asking myself and need to do some research on is, what is remission supposed to be like with Humira? Should I be completely pain free, one solid bowel movement a day with no foods barred from my system?! If it is, then I am definitely not there yet.
WEDNESDAY DECEMBER 30, 2015 - 20:39
Humira craving
Today is Wednesday and I due my first at home injection Friday and have had a really bad headache for the last few hours.
Headaches aren't normally something I suffer from but the penny dropped when I remembered this time two weeks ago and was craving my next dose of Humira then. I actually called this entry "Humira hangover" and now can't decide which is right, it's a hangover as its leaving my system but a craving because I want more...a crav-over, what about hang-ing? It's obviously both!
I'm sure they said on the leaflet that headaches are a symptom and I can cope with that for a day or two before I'm due...wonder what it's like when they stop you on it all together, will it be like going cold turkey being taken off a hardened drug?!? I hope not!
Crohn's wise the pinching pain in my upper right quadrant is back and it reminds me of the pain when I had my surgery at the site of the anastomosis. I only get the pinching feeling when I am leaning to one side, the sharp, squeezing food matter through pain, can happen at any time as normal! Last few days only one motion per day, loose, black, oily, smelly! Nice! But loads of false alarms, that feeling that you really need to go, you get there and nothing...so annoying but a relief at the same time! This is all down to my diet, I haven't been as good as I normally would be as there has been so much temptation around but I know I need to get back on the right path or it only leads to long term pain!
SATURDAY JANUARY 2, 2016 - 19:20
First at home solo injection - done!
Yesterday was the day for my first at home injection on my own...I say on my own but I actually took it at my brother's house for a few reasons:
I spent NYE night there and we were going out as a family for dinner on new year's day, so had to take it with me. This was good practice as well for remembering the sharps bin and making sure I stored it correctly in the cool bag with the frozen pouches.
My dad was really keen to watch me inject - he is a bit of a medical nerd and loves things like this - mum on the other hand and my brother stayed well clear
Having my dad there played into the fact I wanted someone around for the first time I injected myself not at the hospital. I live alone and just having someone else there made me feel a little more at ease.
What did I learn? I got myself and all the apparatus ready (sharps bin, injection pen, cotton wool, alcohol wipe), sat down to inject and remembered it had come straight from the fridge and I needed to get it up to room temperature a little first otherwise it would sting...so we left for 10 minutes and then came back.
I also remembered afterwards I hadn't checked the expiry date on the pen and box which is a step you must do, so need to remember that for next time! Finally, as I was talking through the steps with my dad that Sally had taught me, I was just about to inject on the count of three and as I pressed the button realised I was really tense and needed to relax but then tensed more thinking I wasn't relaxed so this was going to hurt...thankfully it didn't. In fact I didn't really feel anything, I mean I did but not as much of the sharp pain as previously. To the point where I thought it might not have worked and waited for the dribble down my leg but there wasn't any dribble and there was a tiny pin prick of blood where I had obviously injected myself! Hurrah! That was it, it was done, I had injected myself without being at the hospital!
With that we disposed of everything in the right way and headed back downstairs to play cards with the rest of the family.
I've definitely noticed a difference, I've not had as much pain today, stools haven't been the best but I did eat and drink a lot over new year's eve and day but as today has gone on and I've got back into the swing of sensible foods I've felt better.
So this brings me to the end of my Humira diary for you, I hope it's been useful and it has given you some insight into what it's like going on this journey to injecting yourself.
Some other great places to research are the Crohn's and Colitis UK website as they have a factsheet on Humira. They also have a lot of information from a patient's perspective and a handy video to watch on how to inject too.