Probiotic VSL#3 for ulcerative colitis and Crohn's disease
Read about the reasons why you may want to introduce probiotic bacteria to your body and what your microbiome is.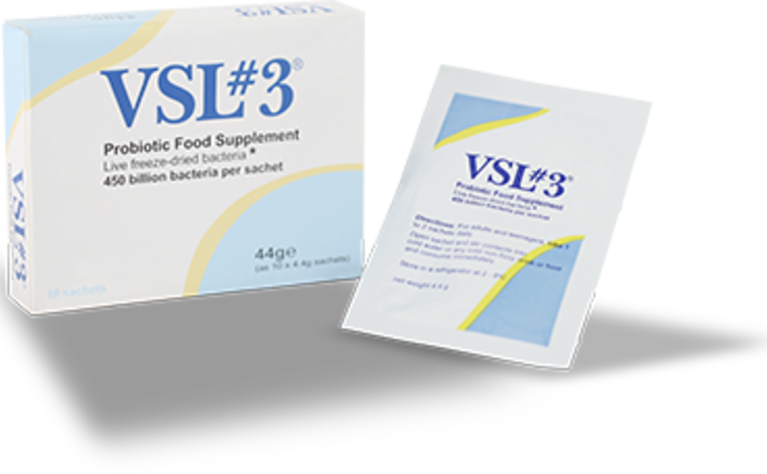 What's in VSL#3?
VSL#3 is a multi-strain freeze-dried probiotic supplement which comes in capsules and packets (sachets).
It contains bacteria strains:
Streptococcus thermophilus




Bifidobacterium breve




Bifidobacterium longum




Bifidobacterium infantis




Lactobacillus paracasei




Lactobacillus delbrueckii subsp. Bulgaricus




Lactobacillus acidophilus




Lactobacillus plantarum
Its other ingredients include:
VSL#3 regular packets: Lactic acid bacteria, maltose, lemon flavor, silicon dioxide, non-fat dry milk.
VSL#3 unflavored packets: Lactic acid bacteria, cornstarch, non-fat dry milk.
VSL#3 capsules: Lactic acid bacteria, microcrystalline cellulose, stearic acid, magnesium stearate, hydroxylpropyl-methylcellulose (HPMC vegetarian capsule), silicon dioxide, non-fat dry milk.
VSL#3's manufacturers say there are 450 billion bacteria per sachet and 112.5 billion per capsule.
They are gluten and dairy free (although manufactured using dairy which is then removed so may contain dairy traces).
How do you take VSL#3?
Sprinkle sachet on any cold food or in a non-fizzy cold drink. The recommended daily intake is one to two sachets or 4-8 capsules a day. Other amounts may be recommended by your doctor or therapist.
How does VSL#3 work?
VSL#3 says that it has chosen bacteria strains that survive the strong, acidic conditions of the stomach and stick to the gut wall so they can colonise in the intestine. They also say that number of bacteria in each dose (450 billion) make it effective.

What is the research into VSL#3 and IBD?
VSL#3 is licensed to be prescribed for the treatment of pouchitis. This follows several clinical studies including one which showed that 'high doses of the probiotic VSL#3 are effective in the treatment of mild pouchitis'1.
Ulcerative colitis
There have also been several studies into VSL#3 and ulcerative colitis. The most recent study 'demonstrated that VSL#3 is effective in achieving clinical responses and remissions in patients with mild-to moderately active UC'2.
Crohn's disease
Studies into Crohn's disease and VSL#3 have focused on:
Paediatric (children)3, 4 - A study looking at children in remission concluded that VSL#3 didn't influence relapse rate but there was a trend to decreasing faecal markers of gut inflammation3; Another study looking at children with active Crohn's concluded VSL#3 has a 'significant beneficial effect upon disease activity'4.
Post-surgery5 - the most recent study concluded that more research into VSL#3 and post-surgery Crohn's disease should be carried out.
Microscopic colitis
One study has been carried out into VSL#3 and microscopic colitis6. It found 'The probiotic VSL#3 was found to offer the benefit of inducing as well as maintaining short-term clinical response in patients with active MC'.
What is the research into VSL#3 and other bowel conditions?
VSL#3 is also licensed to be used as a medical food in the dietary management of irritable bowel syndrome (IBS) following various studies into VSL#3 and IBS. One study7 found that IBS patients taking VSL#3 had less abdominal pain and less abdominal distention and/or bloating and it significantly improved their quality of life.
How is VSL#3 made and who makes it?
VSL#3 is manufactured by SIIT srl in Trezzano sul Naviglio, Italy for VSL Pharma
How does VSL#3 guarantee the number of bacteria in its products?
VSL#3 says each batch is quality-tested to confirm numbers of colony-forming units and to ensure the absence of contaminants. During this testing they also test the integrity of the strains to ensure the strains in the product are the same as the strains advertised.
How long do you need to take VSL#3 for?
It is recommended to take VSL#3 for at least one month to see the best benefit.

How do you store VSL#3?
Sachets should be refrigerated (2-8°C). If unopened and stored under refrigeration, the product is guaranteed until the 'best before' date, which is 24 months from manufacture

How is VSL#3 governed?
In the UK most probiotics are governed under the same laws as foods, not medicines, and governing bodies include the European Food Safety Authority (EFSA), the Food Safety Authority (FSA) and the Advisory Committee on Borderline Substances.
These bodies issue guidelines around what probiotic companies can say in relation to their product and health claims they can make. Even if a probiotic has medical evidence to support its use for a certain condition they cannot publicise this unless they go through strict medical testing - a very expensive and lengthy process.
This is why you will often find that probiotic companies do not mention specific health conditions on their website and marketing material. Guidelines have also been issued to say that the term probiotic may no longer be used in the promotion of supplements by the companies. The Advertising Standards Authority also has oversight regarding claims made and any complaints arising. In general the industry is self-regulated so some companies choose to 'bend' the rules around making health claims in relation to their product.
How much does VSL#3 cost?
10 sachets are £14.95. It is recommended to take one to two sachets a day - that's £1.49 or £2.99 per day.
VSL#3 is available on prescription in the UK (and therefore reimbursed by the NHS) for the treatment of pouchitis, a complication which can occur in people who have had a J-pouch created.

Where can I buy VSL#3?
Where can I get more information?
You can also read Colin's diary of his experience of taking VSL#3 for a month...