Alwine Jarvis - My IBD story
Name:
Alwine Jarvis
Year of Birth
1958
Lives:
Essex, UK
Type of IBD:
Pancolitis
Diagnosis Date:
Around 30 years ago!
Symptoms at Diagnosis:
Severe urgency, bleeding, diarrhoea and mucus, bloating, tiredness
Details of Surgery:
Restorative proctocolectomy with ileal pouch-anal anastomosis (IPAA), also known as J-pouch in two parts
I am not exactly sure when I was diagnosed with ulcerative colitis (UC), but it must have been around 30 years ago. Over the years I have only ever had one drug-free period, however, this lasted for around seven years, at which point I was kidding myself I had beaten UC!
My first major flare was probably my worst, as no drugs or treatment managed to get me into remission. I was hospitalised and I received IV steroids twice daily, along with my regular medication of 2 x 50mg Azathioprine, 6 x 400mg Asacol (Mesalazine) and pain killing drugs. I had various sigmoidoscopies and colonoscopies to determine the extent of my UC. I was seriously ill with pancolitis, not realising I was facing a possible ileostomy!
I had a visit from the surgeon, who drew on my stomach where the stoma was going to be. I burst into tears and said I could not accept that I required the operation as I was only in my mid-20s, despite going to the bathroom in excess of 20 times a day. Diarrhoea with mucus, blood and urgency were severe, but I begged my gastroenterologist to continue with the IV steroids. He said I had exhausted all options and surgery was the way forward. I was sobbing and eventually he agreed to continue two more days with the steroids and if no improvement occurred I was to have surgery at the end of that week. I counted myself extremely lucky, because my bloods and C-Reactive Protein levels (measures infection in the body) started to improve, and after about 10 days I was able to return home to my two small children, both under 5.
Over the years I was hospitalised several more times, always receiving IV steroids, as my body did not seem to respond to oral steroids, nor the other medication which I was on permanently. However, surgery was never discussed again.
I was followed up weekly, fortnightly, monthly, three monthly and eventually I was on yearly visits and just saw my amazing IBD nurse. If I needed to be seen by the consultant she would get me back into clinic. So, my life continued fairly regimented by my toilet trips and drug intake. I worked part-time and once my children were older I returned to work full-time after getting a promotion.
In 2007 a miracle happened. For the first time since my diagnosis in the mid 1980s I went into complete remission. I was so well and had already stopped Azathioprine after tapering down, that I chose to ignore my gastro team's advice and I began to wean myself off of the remaining six Asacol tablets I took daily. I managed to become medication free - that felt amazing! I have since learnt that Asacol (many hospitals have changed this medication to Octasa now) – is considered a maintenance drug, prescribed to prevent potential future bowel cancer. So, perhaps I might have made a different decision today. I had the best years of my life! I presume having given up full-time work was also instrumental in achieving remission along with watching my diet and concentrating on eating healthily.
I wanted to get fitter and lose weight, as over the years the steroids had not been kind to me. I joined a gym and also a running club and after a few months I was able to run 10km. We travelled in south east England to these events. I ran at Arundel Castle, Greenwich, Woodbridge, all undulating runs and I was proud of my new found fitness.
I have always wanted to travel, as there are so many interesting places in the world and for the first time I felt confident enough to go further afield. My husband and I visited Kenya, Thailand, Peru and the American West Coast. The American west coast trip was by coach and we were not allowed to use the toilet in the coach, which for me was a huge pressure as those UC days never left my mind. However, I coped and managed extremely well.
My favourite holiday was trekking the Inca Trail to Machu Picchu. I was worried whether I would be able to cope with the altitude, as we had to negotiate two mountain passes around 13,000ft high. Sadly I did become ill on the trek, after the first night sleeping in tents on the mountain ridge. I was accompanied back to base by a porter.
My husband continued with the group at my request, as this was a once in a lifetime experience and I did not want him to miss out. I was disappointed, but knew I had made the right decision as the diarrhoea was too intense to continue with the group. I did, however, get to see Machu Picchu, travelling the easier way but train and shuttle bus, arriving in time for a glorious 5am sunrise. This was my most magical experience ever in my life!
I am so pleased, that during my years in remission, I managed to visit so many fantastic places and I hope maybe to travel again in the future.
Then, on August 24, 2013, the day of our daughter's wedding, we were flooded out of our newly extended and renovated bungalow. The building work had only finished three months prior to the flood! We had to move out and the day we moved back home at the end of March 2014 my latest severe flare started. I knew it was due to the stresses of organising builders, liaising with insurance assessors and project managing the reinstatement works of our beautiful bungalow.
At that time I felt very positive that I could bring my flare under control with Octasa so initially I did not request a referral back to the hospital. I quickly deteriorated and went back to my GP and asked to be referred. Little did I know that there was a 74-day waiting list to see the consultant. My original gastro team did not exist anymore and I was desperate to be seen, so I phoned the consultant's secretary and asked for a cancellation. She was so helpful and said there were one or two tests we could do prior to my appointment with the consultant. It turned out I did not have C-Diff, but the faecal calprotectin test came back with an inflammation marker in excess of 1,800. That was high, as normal is about 0-100, although I believe IBD patients are classed as fairly ok with a level up to 300. She phoned me up on a Thursday afternoon and advised she had spoken to the consultant and he wanted me in for a flexible sigmoidoscopy on the following Monday! I was amazed, I had not even met this consultant!
The result was severe distal (left-sided) colitis. I was put on Octasa and Azathioprine was added, after an initial blood test. By Christmas I was put on a short course of oral steroids starting at 40mg and tapering down, which I did not tolerate well. The steroids affected my mood, sleep, eating and I just felt tired and miserable. By now I was having accidents as my bowel control was poor. I had a 90 minute journey to work in the car each way and it was a struggle.
In January 2015 I was offered IV steroids in hospital, but having experienced the reactions to the oral steroids I objected to that.
By February 2015 I started Adalimumab (Humira). I did not mind the injections, although at times they were a bit painful, but I thought that is nothing if they got me into remission! By May my 6 TGN level was still far too low with 93, they were hoping it would be at least 250 by now. I had a special blood test, which was sent to King's College Hospital, London, but somehow the sample was lost! My gastroenterologist arranged a colonoscopy and referred me to the surgeon as Humira did not seem to be working and my UC was still getting worse. I was now experiencing severe joint pains, tiredness, sore eyes and I also had mouth ulcers.
I personally thought these new symptoms were Humira related, but I could not get anyone in the medical team to support that view. I had a blood test to identify my joint pains and the result came back showing 'positive speckled pattern' which indicated the possibility of another autoimmune disease. I was referred to rheumatology, but by the time I saw the consultant I had had my J-pouch operation. The rheumatologist advised to wait and see how I was in a few months' time and he would see me again then to review my case.
My IBD timeline
Jan 1985
Diagnosed with UC around 30 years ago
Jan 2007
Completely in remission
Took up running and travelled the world
Mar 2014
Latest flare started
Unable to get it under control. Had sigmoidoscopy which showed severe distal (left-sided) colitis.
Jul 2015
First part of J-pouch surgery
Colon remove, temporary ileostomy formed and J-pouch created from small intestine
Sep 2015
Second part of J-pouch operation
Reversal - J-pouch reconnected to rectum
I received an appointment to see the colorectal surgeon in mid-June 2015. He was brilliant and spent a whole hour of his clinic time talking to me! He operated on me back in 2002, when my gallbladder was removed laparoscopically and he has progressed to being an outstanding colorectal surgeon. I was surprised when I was offered an appointment for July 6, 2015, to remove my colon, rectum and have an end ileostomy. I left the consulting room in shock as this was just short of four weeks away. I thought I would have to wait about 16 weeks and hoped, if I got better in the meantime, I could cancel the operation. I was advised to immediately stop Azathioprine, which had been increased to 150mg months ago and Humira, so my immune system could recover.
At my pre-op visit I was feeling great, much better than I had felt since my flare began back in March 2014. My urgency, blood and mucus had lessened, as well as my joint pain! I was having doubts if I needed the operation and my Enhanced Recovery Nurse said she would get the surgeon to call and have a chat with me, as it was a huge step to take if I had second thoughts. He was fantastic on the call! We went through the options again and he reassured me that my colon did have to come out. If I did not opt for elective surgery, I could end up with emergency surgery because of bowel perforation, which was then unlikely to be performed laparoscopically, because a specialist colorectal surgeon might not be available at that time. I also lost my mum, aged 45, and my maternal grandmother in her 80s from bowel cancer. My mum had a colostomy. Then my dad was diagnosed with bowel cancer aged 55. He also had surgery and a colostomy. He died from bowel cancer in 2003 aged just 73. My older brother had a bowel resection for diverticulitis some time ago.
In the phone call my surgeon offered me a two-stage operation, creating a J-pouch in the first operation once the colon and rectum were removed, as well as a temporary ileostomy, which I would keep for around three months, all being well. I would then require a second operation to reverse the ileostomy and get the J-pouch working. He said it was my choice, but as no one had talked to me about this option before, I needed to come and see the J-pouch nurse to understand the positives and potential challenges a J-pouch can bring, especially the first few months after takedown.
I opted for the J-pouch surgery. The first operation took five-and-a-half hours. I now had a temporary ileostomy until the second surgery scheduled for three months' time. Sadly, in-between my two surgeries I developed a serious blockage which required me to be hospitalised, and then a second blockage (this time in two places) six weeks later, which also meant I was admitted to hospital.
After my stoma reversal operation I felt so well when I woke up the next day. I was allowed to start eating a low residue diet straightaway and I could not have wished for more. It felt strange to use the toilet in a normal way again after three months with a stoma. However, overnight my bowel went to sleep and I was placed on 'nil by mouth' to give it a rest. This lasted for five days! Then finally my bowel woke up. I was allowed home the next day, which surprised me, as it was before I had even eaten a solid meal, not knowing if it would pass through my new plumbing system without any problems. Thankfully I was fine.
After my surgery I had great support from my Enhanced Recovery Nurse, who rang me at home for the next few days to make sure I was ok. In the early days I also was supported by my J-pouch nurse, who always returned my calls if I needed some advice or reassurance. This really helped and I felt less alone. I joined 'The J-pouch Group' on Facebook. The people on this forum were a great help to me! I listened to their advice and I have made steady progress. Three months post-takedown I was able to eat some fruit and vegetables, although I was still very limited with regards to what I could tolerate. I still can't have fizzy drinks, cream, butter, cheese and normal milk just in moderation, as these increase my output tremendously. I know everyone is different and I also have to make allowances for having no gallbladder, which is an additional hindrance, as I cannot absorb fat well.
I saw my consultant in mid-December and he said I looked well. My friends and family also commented on how well I was looking over the Christmas period. Initially, the early evenings after the main meal, as well as the night time frequency, was difficult and the early evenings after the main meal, however, now everything has settled down, I am physically and mentally in a much better place!
I have been volunteering at my local Park Run throughout the months of my surgery (at times it was tricky, but the enjoyment I get out of volunteering outweighs the risk of a possible accident) - and I aim to be fit enough no later than spring 2016 to run the 5k myself again.
Would I do it all again? Of course, no question at all, I just wished I had done it years ago!I feel I have got my life back and I intend to make the most of my new J-pouch and get back to a very active and hopefully healthy life!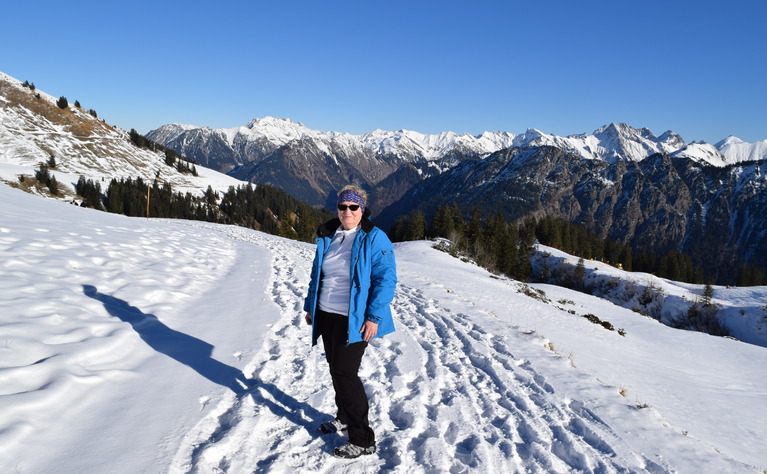 If anyone has any specific questions or just wants to talk to me feel free to contact me through IBDrelief.