Achieving my own Olympic dream
On the track seven athletes are lined up ready to start their race. It's the first heat of the women's heptathlon on the first day of the athletics at the Rio Olympics. As they get settled in the blocks and wait for the starter's gun I'm feeling quite choked up. I can feel my heart start racing, as I know their hearts will be too. Then the bang of the gun sends them all chasing their dreams from the past four years, just as I have been chasing mine.
An Olympic dream
It was four years ago - almost to the day - that the athletic events at the London Olympics inspired me to really start the fight against my inflammatory bowel disease (IBD). I've always been a keen sportsman - and always a fairly quick runner - but when I was diagnosed with ulcerative colitis in 2008 I let it stop me doing so much of the sports I loved.
Seeing all the athletes achieving their dreams at the London Games made something change inside me, made me decide I wasn't going to let IBD stop me from doing what I wanted to do. And, what I really wanted to do right then was experience the feeling of lining up at a start line ready to run as fast as I possibly could.
Soon after the Games ended I took myself down to my local running track at Withdean Stadium in Brighton and had a jog around. It felt good, I felt good. When I was at school I used to compete in athletics so it wasn't a completely alien sport to me, but it was still something that I hadn't done in many, many years.
So, I signed up to the athletics club and joined in their training twice a week. It turned out I was still pretty quick and started racing at 100m, 200m and 400m. My times were always improving and my UC was getting better (I'd been struggling a lot and was on some pretty strong meds - steroids and 6-Mercaptopurine). It was at this point that I started to really believe I might actually be able to race at a high level - maybe nationally or even internationally.
My strongest event was 400m and I started to research into the time I would need to achieve to reach my goal.
At this point I should tell you that my mother is Finnish - meaning I would be eligible to run for Finland, a country which doesn't have as many athletes, let alone 400m runners - so the times I would need to reach were not as quick as those for GB athletes.
It was all going so well - until I realised that I was taking a banned substance. Steroids.
For years I had relied heavily on corticosteroids (Prednisolone) to control my UC flares. No matter what other medication I tried I just couldn't come off the steroids. Sadly for me that would mean even if I reached the times that would get me to the top of the field (either in the UK or Finland) I wouldn't be eligible to compete if I carried on taking the drug.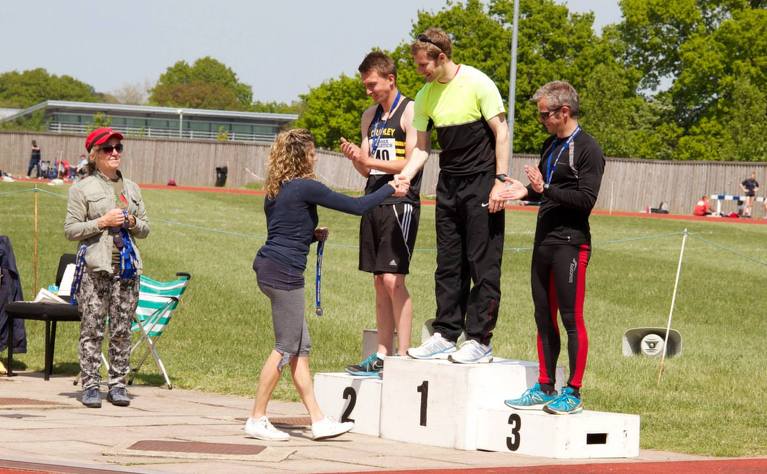 Project 'get off the steroids'
But I decided that this time the steroids weren't going to win. My IBD wasn't going to win. So project 'Get off the steroids' commenced.
I felt the exercise I was doing from the athletics training was making my IBD symptoms a bit better - so I wondered what other things in my life I could adjust to help me feel better...and maybe this would allow me to drop the steroids for good.
I got some good advice from an unexpected source (an acupuncturist I was reluctant to go and see) and started adjusting my diet to be healthier and cutting out many foods that I hadn't really thought were trigger foods for me (but turns out they were). I also started working on reducing my stress levels (owning my own business didn't help). And, in January 2013, before I'd even realised what was happening, I was off the steroids and 6-MP completely (and I haven't been on them back since!).
Then only a few months later I became Sussex champion in 200m and 400m. I was competing for my county. I was feeling really good.
SPOILER: So, I haven't raced at a national or international level (yet). Life kind of got in the way (I had a baby, started IBDrelief) and I'm starting to get a bit old to break through now. But, you know what, I've achieved something equally as amazing in the past four years. I've claimed my life back from the clutches of IBD. I'm healthier and happier than I've ever been (even pre-IBD) and I wouldn't change a thing. I'm not naive enough to think that this might not change. My UC will always be there and it may rear it's head again at any time, but for now I'm grateful for every day and every opportunity I'm given to enjoy my life.

Inspire a generation
London 2012 set out to inspire a generation. Well it can certainly count me among those who have been inspired. If someone had told me five years ago I'd be where I am now in my health, how I'm managing my IBD and my athleticism I'd have laughed.
A few weeks ago I had the privilege of visiting the Olympic stadium in London for the first time to watch the Anniversary Games. I felt inspired all over again. In five years I'll be old enough to race as a veteran - and if I carry on training I won't be far off the times to race internationally. Maybe I will be able to fulfil my dream after all.