Tom - My IBD Story
Name:
Tom
Year of Birth
2004
Lives:
East Sussex, UK
Type of IBD:
Crohn's disease
Diagnosis Date:
December 2010 (aged six-and-a-half)
My story - July 2016
My name is Tom. I am the leading goal scorer for the under 13 Grasshopper Rockets team. I also trampoline for Sky High and compete at a national level. Oh, and I also have Crohn's disease - it sucks!
I was six-and-a-half when I was diagnosed. I think I was lucky as it only took a couple of months from being ill to getting my diagnosis.
I'd been feeling poorly for a few weeks and on December 10, 2010, my parents took me to Eastbourne hospital because I was so ill. I ended up being taken from Eastbourne to Brighton in an ambulance on blue lights. I spent five weeks in Brighton children's hospital (Royal Alexandra). It meant I missed being a shepherd in my school nativity.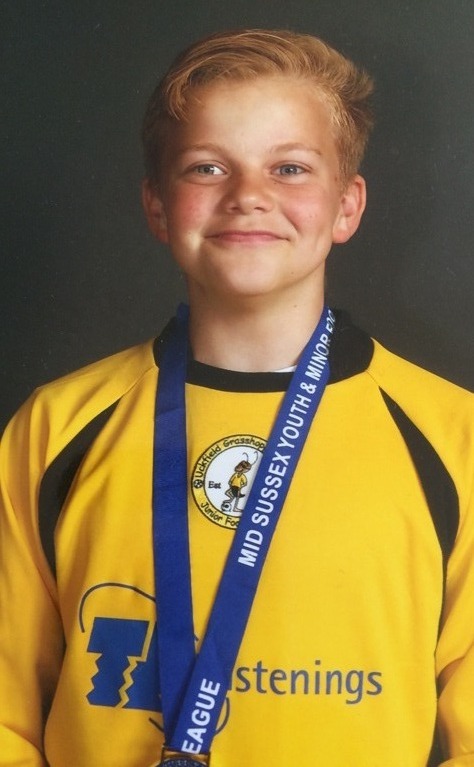 While I was in hospital I had a colonoscopy and upper endoscopy under general anaesthetic. The doctors could see ulcers in my digestive system and they diagnosed me with Crohn's disease. I hadn't heard of Crohn's disease before and neither had my family.
I wasn't allowed to eat for four weeks. I was on HDU on Christmas Day being tube fed as Modulen (a form of liquid nutrition) made me sick. I had a picc line put in as I had no veins left for them to access.
I was losing so much blood when I went to the toilet that I had five blood transfusions while I was in hospital.
The day that the dietician said I could eat again was the best day of my life. Jacket potato and butter was so yummy after four weeks without eating. It was all gone within seconds.

The hardest things were the NG (nasogastric tube) they put through my nose into my stomach and being attached to monitors and drips all the time. Sometimes I needed the toilet but because I was attached I didn't make it in time. I also didn't like the steroids I was being given.
My best friends came to visit me in hospital and made me a get well soon card.
Going back to school was good as I had missed my friends. I did get a bit bullied as I had put on so much weight from the huge amount of steroids I was on.
At school I have a fast pass so I can leave class and go to the toilet whenever I want, but it can be awkward to use as I can get asked a lot of questions.

Things were going well. I had started to have Infliximab infusions while I was in hospital and was also taking steroids and azathioprine. Before I got ill I was playing football a lot and had just started trampolining. I wanted to just get back to doing it all again but I had to start slowly.
In the following June (2011) I had chicken pox and after that I started to get ill again from my Crohn's. I had to go back into hospital and I was put on Modulen. I didn't like it but it was better than having an NG tube! This time I spent four weeks in hospital but the doctors said I could still eat and I loved the cooked breakfast every morning. Again I needed to have a picc line.
When I felt up to it I was able to get out and about. Mum pushed me in a wheelchair or we would catch the bus into Brighton. I spent my 7th birthday in hospital. We had a party on the beach and mum bought me some black Converse boots that I really wanted. I was allowed out the day after my birthday. I think my doctor just wanted me to stay in so he could spend my birthday with me!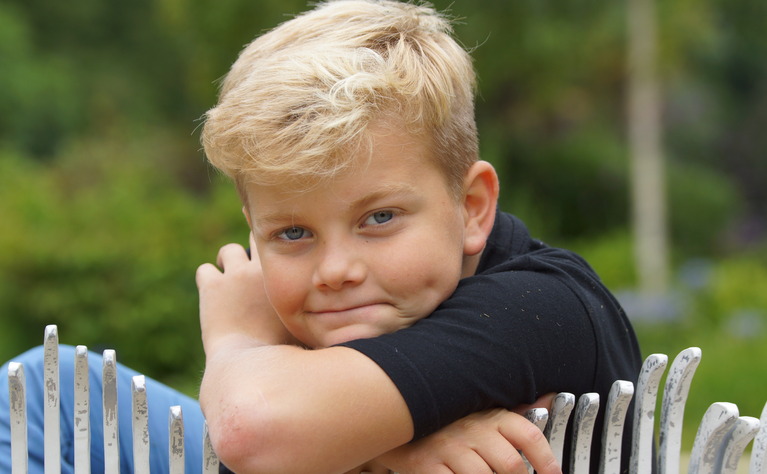 After I came out of hospital people were saying to me how well I looked - but inside I didn't feel it.
After this I managed to stay out of hospital, but there have been a few flares along the way.
I lost my granddad two years ago and I didn't tell mum that I was having another flare up at the time. I thought she had enough to deal with.
In 2015 I went through an eight month flare and another started on Christmas Eve, lasting for three months. I had a few short courses of steroids to get on top of them.

Around three years ago I had a portacath fitted after lots of failed attempts to get lines in for my Infliximab infusions. Because of my trampolining where they placed the portacath was really important so that it didn't get in the way. In the end we decided the right hand side of my chest was the best place for it. Even though I was out of action for a couple of months afterwards it has been great and has made going for my six weekly infusions so much easier.

Since getting diagnosed with Crohn's I've had nine blood transfusions, a nuclear scan, MRI scan, ultrasounds, X-rays, three endoscopies, countless lines, two picc lines, a portacath, 56 Infliximab infusions and three iron infusions.
But, I've also travelled around the country to compete in trampolining, winning many medals, I helped my football team get promoted this season and I'm doing well at school.
Crohn's disease is hard but you just have to not think about it too much and try to get on with things as best you can.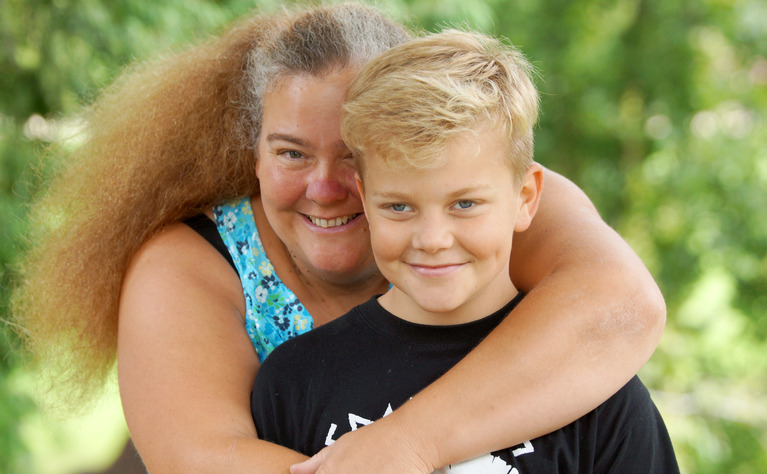 Update - October 2017
Well I made it to being 13 and nearly a year ago I managed to come off my Infliximab which has been fantastic. I don't have to keep going to hospital and missing school. Long may it continue as school is important to me.
I have had one or two hiccups and had a colonoscopy late last year. Although there was some thickening of the lower intestine Dr Butt wasn't to worried as there was no other signs and I had been so well otherwise. Three days later I entered my first international trampoline competition. I came 16th. Not bad for for having a general anaesthetic three days earlier.
I continue to play football, although I find running longer distances very fatiguing. Currently we are top of our league and doing very well in the two cups were are playing in. I have played the whole match of the games I have played in.
Trampolining is going well. In June I qualified for the NDP finals. It didn't quite go as well as it could have but I have learnt a lot from it and despite coming 7th I got really good scores. For my level I was the leading boy for the south east. One week later I was second in the Sussex championships and 1st with my synchro partner Daniel.
We also won the 13-14 boys "Gold" English Championships and I came 9th in the Silver individual.
It's a big help that I have very understanding coaches both in trampolining and football who push me when I'm well and give a bit when I'm struggling. (It's a shame some of my teachers are not so understanding).
It's not been all plain sailing though. I seem to have stopped growing so I had a bone ageing Xray recently and we are waiting for the results - just an other side to the Crohn's.
For the first time I have managed a couple of weeks in Poland with a school friend and a week in Greece with Dad. I have also been camping with mum.
Don't let Crohn's rule your life. Don't give into it. Keep fighting.