Transdermal magnesium baths for IBD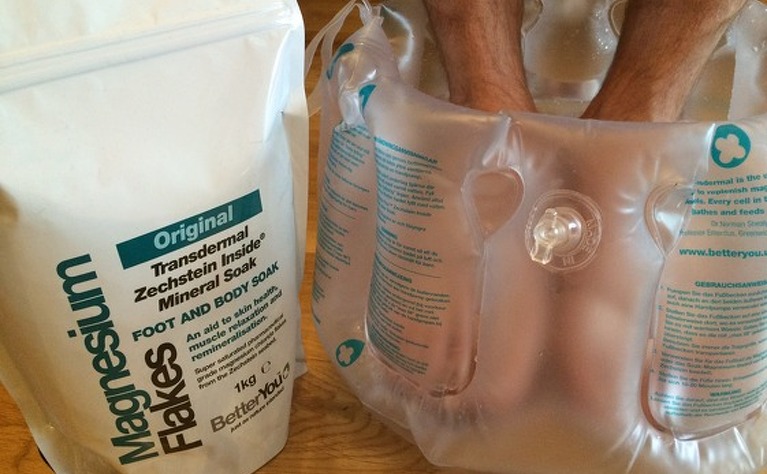 Discovering magnesium baths was a pretty momentous occasion in my life.
The moment I first stepped into a steaming hot bath filled with magnesium flakes I knew that I was onto a good thing. My muscles completely relaxed and when I got out I found that the pain I had been carrying all day had melted away.
Like most others who have inflammatory bowel disease (IBD) I suffer from fatigue and joint/muscle pain. Generally doing some exercises and stretches helps me to manage this, but sometimes that just isn't enough. This is where the magnesium comes in.
For those of us with IBD it makes sense that we need a magnesium boost. Anyone with chronic diarrhoea, extensive inflammation, removed portions of the jejunum and ileum or fistulas is at risk of magnesium deficiency.
Some of the early signs of magnesium deficiency include loss of appetite, headaches, nausea and vomiting and fatigue and weakness. Longer term signs include muscle contractions and cramps.
Magnesium is important. It's found in more than 300 different enzymes in your body and is responsible for creation of ATP (adenosine triphospate - the energy molecules of your body), proper formation of bones and teeth, relaxation of blood vessels, action of your heart muscle, promotion of proper bowel function and regulation of blood sugar levels.
After someone suggested to me I may have some form of magnesium deficiency I did a bit of research and decided they were probably right. I went online and bought myself a bag of magnesium flakes - and I haven't looked back.
Upping my magnesium intake is now an important part of managing my fatigue and joint/muscle pain. I now have regular magnesium baths (either full bath or footbath) using magnesium flakes* and use a magnesium spray* on my sore joints (generally my knees!).
*Please note these are affiliate links which means if you buy from the company we may receive a commission. You will pay the same price as you normally would and any money earned will be used to support IBDrelief's work