Tim Parsons - My IBD story
Name:
Tim Parsons
Year of Birth
1983
Lives:
Gillingham, Kent
Type of IBD:
Crohn's disease
Diagnosis Date:
March, 2012
Symptoms at Diagnosis:
Loose bowels, bleeding, constipation, fatigue, sickness, dizziness
Details of Surgery:
None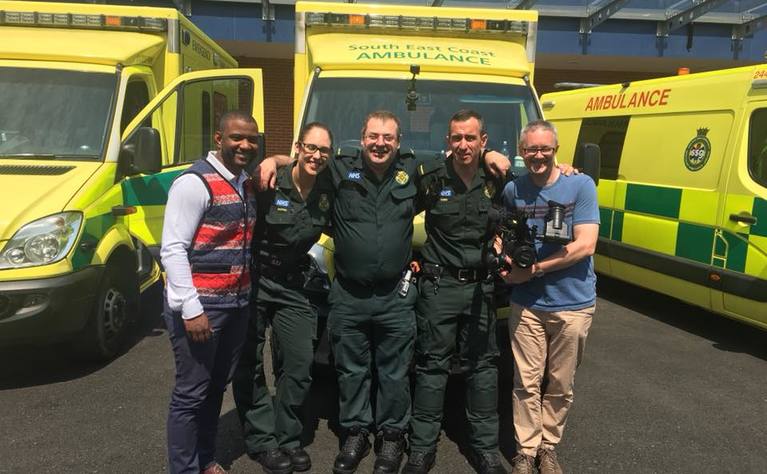 My name is Tim Parsons. I am Chaplain to South East Coast Ambulance Service, husband to Caroline and dad to William and Daniel. I was diagnosed with Crohn's disease back in 2012 and have been on medication ever since, including steroid treatment. I am now undergoing biologic infusion treatment which seems to be working.
From around 2008 I was suffering from a lot of physical symptoms, including sickness, loose bowels, bleeding, fatigue and anxiety. I suffered from post-traumatic stress disorder (PTSD) back in 2008/2009 following the death of a child in our old church in Dartford, Kent. It took a long time to diagnose my Crohn's disease as it was always blamed on my mind following the PTSD.
I had a period where I had to stop work for over a year and we had to manage on my wife's salary. I've also been admitted to hospital four times since my diagnosis.
After being diagnosed I felt low and worried for a while, but now I feel peaceful.

I try not to let the Crohn's disease affect my daily living. As a result in 2015 I was appointed voluntary Chaplain to South East Coast Ambulance Service. I was offered the vacancy via the South East Baptist Association as I had previously been serving as a Chaplain to a dementia care home in Gravesend. I wanted to get experience of frontline emergency service work, supporting people going through PTSD, physical and mental problems. Our youngest son, Daniel, nearly died when he was three days old due to neo natal seizures and the paramedics saved his life. Supporting them makes me feel I can give a little back.
My role is varied, supporting mainly staff – although I do support members of the public from time-to-time. I quite often have, and do, go out with the crew on shifts which has given me the frontline bluelight experience I wanted.
The shifts are very tiring but I generally find a good diet helps me to cope with my Crohn's disease. I also own a computer business (Tim Parsons Computers) which is not physically active like the ambulance service work.
In 2018 I appeared on BBC Songs of Praise for their NHS 70th anniversary program. I also received an award at Westminster Central Methodist Hall in May 2018 for my work with the ambulance service.
Songs of Praise
I have just published a children's book called Paramedic Chris. The aim of the book is to help fund a retreat centre one day which people can get 24/7 care. As well as the retreat centre I am hoping the books educate upon the works of the ambulance service. Part two is due out soon which is based upon a call to an elderly patient suffering from loneliness and paramedic Chris helps rebuild his life.
To other people living with IBD I will say this: Keep active. Even if you cannot keep physically active there are always things to challenge us such as puzzles, meeting friends, writing books, doing art plus much more. Keeping mentally active is important as when you go through a flare up it is very easy to feel down and not see ahead.

You can buy a copy of Paramedic Chris via this link.