Living with a J-pouch
It's now two years since I was reconnected after two operations: the first to remove all the faulty parts of my intestines and to create my J-pouch and the second to staple everything back together.
Despite my initial reluctance to have surgery, which I've written about previously, having been through the surgery it was certainly the right thing to do. I've gone from being housebound and 30+ pit stops a day to living an active, "normal" life and only needing 3 or 4 pit stops a day. Although it hasn't been that simple a transition.
After being reconnected I was wheeled up to the normal IBD ward rather than into the high dependency ward, as after the first operation, as this operation had been done by keyhole surgery through the slit where the stoma had been rather than being sliced down the middle.
It was late afternoon by that time so I'd missed the lunch round but the nurses gave me a tuna sandwich which I remember because that was what the same as what I'd had to eat when I came out the operating theatre after getting my nose rebuilt a few years earlier.
Learning to hang on
One thing the surgeon told me before being reconnected was that I would need to learn to "hang on" when I felt I needed to go, both to retrain the muscles in that area to getting used to holding stuff in but also to allow the J-pouch to stretch so that it could hold more faeces over time.
Sure enough, after about 24 hours or so I could feel that the tuna sandwich had worked its way through my system and what was left was needing to come out. I tried holding on for as long as I could before eventually I toddled off to the toilet in the ward and did what needed to be done. My initial feeling was of relief at the operations seeming to have worked.
Over the next few days I tried to eat and subsequently "hold on" as best I could and get used to the sensation of having dramatically different insides than I used to have before. Initially it looked like I would be released back into the wild a day earlier than planned but the area where I'd been stapled back together was still very painful and I was having trouble keeping my balance when standing so the hospital physios decided to keep me an "extra" night and retest my mobility the next day so I was released home on the day originally intended.
The day after I got home I was suffering from cabin fever and it was an unusually nice day in Glasgow so I commandeered my brother's bike and went for a short cycle to stop me going doolally. I've always been an active person so after five days in hospital I just needed to do something to get me out and about.
One time I was hospitalised during a severe flare and was being kept in a separate room off the main ward. I was going out my mind not being able to do much other than sit in bed so I got my parents to bring me in my skipping rope. I started skipping away to take my mind off my current predicament when I thought no-one was looking - only for the gastro consultant to come in and see me while on his rounds. I won't repeat exactly what he said but it was rude, even by Glaswegian standards!
I've always found that the first few days after coming home from hospital are quite hard as I am catching up with all the sleep that I missed while on the ward. So for the first week or so after getting home I was getting as much rest as possible and gradually going out for longer and longer walks to get my strength back up. I was still eating fairly light items so that I wasn't going to damage the area where I had been stapled back together and I could actually feel the digested food moving over the join inside me.
The area was still fairly painful, although nowhere near as painful as it was after the initial operation, but I was prescribed enough painkillers to enable me to get through the day with ever decreasing discomfort.
Travelling abroad
My last overseas trip before my operations had been to Warsaw to see Scotland play and that was also my hero and inspiration Darren Fletcher's first game back for the international side after his J-pouch surgery. I had hoped to be in fit enough a state to see Scotland's first game of the Euro 2016 qualification campaign away in Germany which was played 10 days after I was reconnected but the surgeon told me, in no uncertain terms, that there was no way he was going to sanction that so I had to aim for Scotland's next away game which was also against Poland in Warsaw.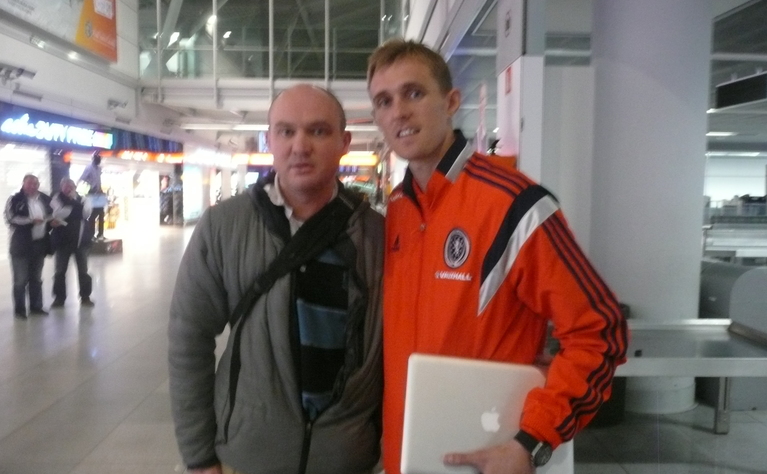 Given that this was six weeks after my second operation my sister decided that she would come with me to make sure there was someone with me just in case of any problems. I went to University in Poland so I speak the language reasonably well and know Warsaw like a local so I wasn't too worried about travelling there - but my sister hadn't been to the Polish capital before so this was a chance for me to show her around.

I had been gradually retraining myself to "hang on" as best I could which, after years of going for a pit-stop before doing anything significant just in case, was taking a bit of getting used to. However, at that time, around eight pit stops a day was pretty much the same as when I suffering before my operation so I was still a bit nervous about travelling so soon after such major surgery. Plus Polish food is quite heavy so I wondered how my newly rebuilt insides would cope with that so soon after being stapled back together.
I got copies of my "Can't Wait" card in Polish from Crohn's & Colitis UK and took the booklet from the Ileostomy Association which explains the surgery I've had in various languages with me. I also got myself a medical alert bracelet with the name of my surgery on it and now wear that each time I go abroad just in case there is a problem in future.
Old habits die hard so I did go for more pit-stops than was probably necessary while in Warsaw, and I certainly got the fright of my life they day after eating some beetroot when it worked its way through the system the next day! However, I survived without any difficulties, although my poor sister was worn out trying to keep up with me walking everywhere!
I've been abroad several times now since the surgery without any problems, although I make sure I get a "Can't Wait" card in the local language if one is available, take my booklet from the Ileostomy Association and wear my medical alert bracelet.
I haven't been away more than a week at a time and the furthest off the beaten track I've been is Tunisia but I intend to start going further afield and for longer in the not too distant future.
One place that's near the top of my 'to visit' list is Costa Rica because their currency is the Colon. While I'm there I might even pop across the border into Panama to visit the great metropolis of Colon, which is at one end of the Panama Canal, or Colon Island which is in the north of the country!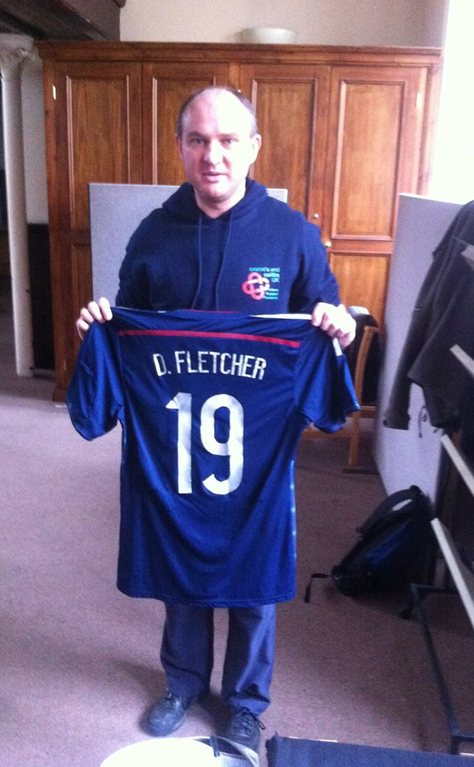 Coping with 'the sting'
The other thing that I was having to get used to was what I called "ring sting". The surgeon had warned about this and I had got myself some Sudocream/wet wipes to help mitigate the inconvenience but in the beginning there were times when it would drive me loopy.
Also, in the beginning, the quality of toilet paper while out and about could be variable and hurt when used so I would take some from home with me just in case I felt it was better to use it. However, this was also working as a motivator for me to practise holding on so that the less often I went for a pit stop the less ring sting I was going to get afterwards.
Getting a blockage
I had quite a torrid time the first time I got a blockage. I had to be up at a meeting on a Saturday morning in Dundee and because I'd been to the rugby on Friday evening I travelled up on the last train and got to bed in the early hours. I'd only got a couple of hours' sleep before my stomach started to ache. By this point, it was more than six months after being reconnected so the pain from the surgery had died down. I tossed and turned for a couple of hours trying to get back to sleep but eventually it was time to get up. I went for a pit stop but no matter how much I tried nothing was coming out - which did strike me as strange as by that stage I was still going around half a dozen times a day.
I went down to breakfast, which was a proper Scottish one, so I had no hesitation in stuffing myself. This perked me up a bit and the meeting started. Gradually I began to get more and more cramps inside and, despite a couple of attempts, I couldn't force anything out.
By the time the meeting finished at lunchtime I was in considerable discomfort and my colleagues, who all knew that I'd been for surgery, were starting to get concerned. We were just leaving to get the train back to Glasgow when I knew I was going to be sick and promptly projectile vomited there and then all over the hotel's rather nice carpet.
After eventually getting myself and the carpet cleaned up I felt slightly better so a colleague accompanied me back to Glasgow on the train, although I spent most of the journey curled up in a ball on the seat as the cramps were coming back.
I got myself home and went to bed hoping to sleep things off. However, by early evening things were only getting worse so my parents called NHS24 to see what help they could give. Eventually an on-call Doctor came to the house and examined me. He didn't really know much about dealing with faulty and rebuilt insides so he called the on-duty surgical team at the local A&E, told them that he was sending me there and that I was en route.
My dad drove to the A&E and to my surprise I was taken straight through to speak to the on-duty surgeon, much to the annoyance of the Saturday night revellers who were waiting to get treated after getting in fights while out in Glasgow earlier.
The surgeon examined me and we discussed what I had eaten in the day or so previously. He seemed to think that it may have been down to the fact that I'd had some fish and chips from the local chippie on Friday evening and not drunk enough fluid meaning my insides got all clogged up. He gave me some Buscopan to help with the cramps and told me to drink lots of water to flush my system out.
I have had a couple of blockages since then but they haven't been as severe as that one and I now know what the feelings are like so I start drinking more water to try to flush things through. One thing I notice after I get a blockage is that for a night or two afterwards I wake up in the morning to find that I've had a wet fart in my sleep. I also noticed this happening a couple times a month for the first the first couple of months after surgery as my insides were getting used to having to hold things in again.
However, this died down over time and hasn't been a problem for a long time. For around a year after being reconnected, I just wouldn't fart when I was feeling gassy as I wasn't exactly sure that it would just be gas that would come out so I would wait until I got to a toilet before letting the gas out, although now I generally know when I can let one rip and when to hang on.
One tip that someone who I can't remember gave me and that I used whenever I had a blockage or felt sore inside while healing was to run a bath as hot as I could handle and fill it up so that the water covered over my stomach area while lying down. I found that this certainly helped, especially over the cold winter months, although it does boost the profits of your gas and water suppliers.
Effects of alcohol
One big disappointment for me just after my initial surgery was that I wasn't able to travel over to Dublin to see Glasgow Warriors play on the 2014 PRO12 Final and I actually missed the game entirely as I was in hospital getting pumped full of morphine after complications with adhesions. Glasgow lost, although it was about four days after the game that I actually found out the result. However, they got to the Final again in 2015 over in Belfast so the group of us that sit together at their home games travelled over to see them play.
They won this time so we obviously had to go out and celebrate. We stopped for a celebratory pint in every pub that we found as we walked back from the stadium to central Belfast which was my first introduction to alcohol since my surgeries. When I came round on the Sunday morning the police custody Sergeant told me that I had had quite a celebration the night before, although I wasn't the only one. He very kindly pointed me in the direction of a good café where I was able to get a decent cooked breakfast and, once I'd found somewhere to get some Irn-Bru, I floated around the Titanic Quarter in a state of blissful happiness. However, I did make a mental note that alcohol seemed to have a more potent effect minus a colon than it did previously.
Fatigue
Another things that I've noticed since the surgery is that the fatigue that I suffer from had changed. Some people that I've spoken to since my surgery assume that since I've had my colon taken out I am cured of UC but I need to explain to them that I am actually in surgical remission: I still suffer from IBD and the associated side effects but it has required surgery to keep in remission.
While I had a colon, I was constantly fatigued and spaced out like a zombie most of the time. What I'm finding now is that I am either on or off and it does take a bit of effort to actually get me started in the morning. However, once I actually get round to heaving myself out of bed then I am generally able to get myself through the day without too much difficulty.
There are some days though when I do feel fatigued and I'm like a purple Minion the whole time and there are other times when I feel unstoppable so I never quite know how a day will pan out until I get up.
Positives
Aside from not having constant "brain fog" there are a couple of areas where I have noticed a real improvement. Firstly, apart from a sachet of probiotics every morning, I am medicine free and my body is certainly grateful for that: no more aching joints from the Azathioprine and mood-swings from the Prednisolone.
Secondly, the mental anguish of not being close to a bathroom is no longer there and I can happily go about my day without having to plan pit stops at regular intervals. At the moment I go for around four toilet stops a day, although if I have the occasional day where it is a couple more than that I don't panic and think that I'm going to be starting a flare of my UC again.
Also, I now have an appetite since I feel like eating once again. I enjoy my food and always tried to keep eating the things I enjoy even in the midst of a flare, although at times I was anorexic.
Having had a couple of blockages since my surgeries I take great care chewing my food especially with "problematic" items such as nuts and vegetables so that they are fully broken down before they make their way further down.
Since starting to take the probiotics I feel that what comes out is more substantial than before I took anything and I've also noticed that carbohydrates need to come out more liquidy than other foodstuffs. Fortunately the "ring sting" that occurred after being reconnected has reduced over time although if I each something a bit spicy I know about it the next day.
Overall, despite my original reticence to have the surgery, I am now reaching the two year point where the surgeon told me I would start to really feel like I was recovered from the surgery process.
Without doubt having the surgery was the correct decision to make and while I don't know if I should have gone for it earlier than I ultimately did, I'm certainly glad that I went for it while I still had a choice in the matter.
With being ill, I haven't had much chance to do some of the things that I had planned for the last five years but on the flip side, I have ended up being involved in so many things, such as writing these articles, that I would never have been had I not become ill.
I'm turning 40 later on this year and now that I have got my mojo back I am looking forward to having my mid-life crisis and doing all the things that men supposedly do in that time such as buying a convertible and/or motorbike and chasing after women half my age!